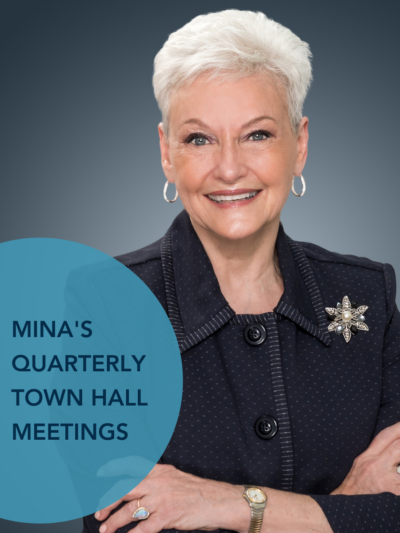 For a long time I have wanted a platform to consistently share "tips and tricks", lessons learned, etc with my graduates.  For starters, about 18 months ago I too the NEW ICF's Credentialing exam that was replacing the legacy ICF CKA. It was so radically than the original CKA, I wanted to share give students a description of the new exam and share what I discovered in the new process.  There are many things changing with ICF, BCC, and other facets of our business. Our industry is still one of the fastest growing markets in the wold. I thought it would be useful to share what I discover, periodically, and to be available to answer questions any of my graduates might have.
We will update this page as we go along, with recordings, materials, and other pertinent information that I discuss in my town hall calls.
If you have any questions, you can call Mina (972-733-9963) or email us at minabrown@positivecoach.com. We are dedicated to supporting your growth and success as a coach. On behalf of our myself and my staff, we hope you glean as much information as you need!
Date
Time
Zoom Registration
March 10, 2023
1:00 PM - 2:00 PM Pacific, 3:00 PM - 4:00 PM Central, 4:00 PM - 5:00 PM Eastern
REGISTER NOW
June 9, 2023
1:00 PM - 2:00 PM Pacific, 3:00 PM - 4:00 PM Central, 4:00 PM - 5:00 PM Eastern
REGISTER NOW
September 15, 2023
1:00 PM - 2:00 PM Pacific, 3:00 PM - 4:00 PM Central, 4:00 PM - 5:00 PM Eastern
REGISTER NOW
December 8, 2023
1:00 PM - 2:00 PM Pacific, 3:00 PM - 4:00 PM Central, 4:00 PM - 5:00 PM Eastern
REGISTER NOW
March 8, 2024
1:00 PM - 2:00 PM Pacific, 3:00 PM - 4:00 PM Central, 4:00 PM - 5:00 PM Eastern
REGISTER NOW
June 14, 2024
1:00 PM - 2:00 PM Pacific, 3:00 PM - 4:00 PM Central, 4:00 PM - 5:00 PM Eastern
REGISTER NOW
September 13, 2024
1:00 PM - 2:00 PM Pacific, 3:00 PM - 4:00 PM Central, 4:00 PM - 5:00 PM Eastern
REGISTER NOW
December 13, 2024
1:00 PM - 2:00 PM Pacific, 3:00 PM - 4:00 PM Central, 4:00 PM - 5:00 PM Eastern
REGISTER NOW

2025 TBD
Recordings and Related Materials
Days
Topics
Recordings
December 2022 Town Hall
Advanced Level 2 Training for PCC, New BCC Exam Preparation Module, Texas Coaches Coalition All Texas Retreat and Conference March 23 - 26, New ICF Certification in Team Coaching
Click here for December Recording
Password: ^c*qkC4D
March 2023 Town Hall
Click here for March Recording
Password: __________________________
June 2023 Town Hall
Click here for June Recording
Password: __________________________
September 2023 Town Hall

BCC Exam Prep Nov 9, 1-4 pm
CCMC Jan 11 - Mar 7, 2024
Advanced Class June 2024 (Not November 2023 or May 2024)
ICF Reciprocal Coaching -- North America (10/11/23 - 3/31/24)

Experienced Coaches (2023/10.2)
Student/New Coaches (2023/10.3

ICF Austin Chapter Meeting September 26, 6 pm CDT: The Coach's Roadmap to Rapid Growth, Krista Martin
Great discussion about how to reclaim money we may be leaving on the table.

Click here for September Recording
Password: __________________________
Recordings are deleted after 6 months